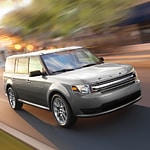 When someone is depending on the Ford Flex to get a job done, there are not many forces in the world that can stand in their way. Regardless of the obstacles faced by this iconic full-sized SUV, its dedication to progress shall continue unabated. Based on remarkable engineering and reputable technology, this ostentatious powerhouse serves as an aerodynamic paradise.
Saint Louis crowds are instinctively drawn to the way this ride confidently showcases a benevolent combination of grandeur and gumption. This sleek juxtaposition is best represented by the inclusion of exotic external mirrors, which feature a variety of useful heating mechanisms to guarantee an unobstructed view from the moment you leave home. Automatic memory-based adjustments are available for the Limited trim alongside dazzling power-folding abilities.
There's no better time than the present to meet with Suntrup Ford for a one-on-one automotive exhibition. Just be warned that you might fall in love with the entrancing power liftgate at first glance.